23 août 2013
5
23
/

08
/

août
/

2013
20:24
I'VE FOUND IT !!!!!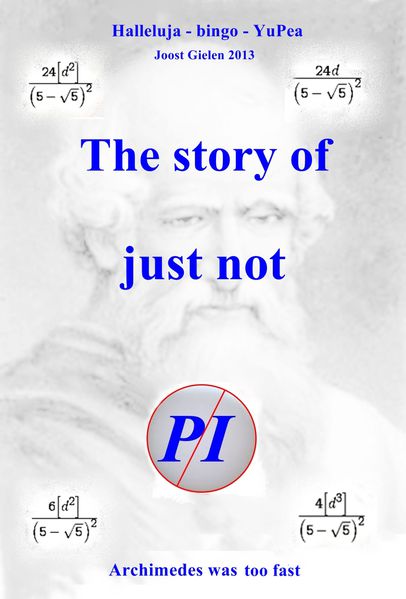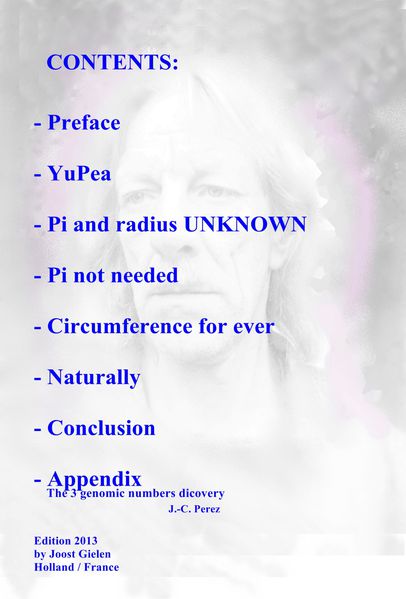 The story of "just not Pi"
by
Joost Gielen
Archimedes was too fast
A discovery
which could not be a discovery
after 2000 years of science
but...
maybe yet is !
Science has made its way through the bush, the swamps, the deserts etc.
It could have taken the highway nearby, if only it had known it was there....
page 21:
For days he turned his wheel and gently rotated it with small marks on it and on the soil. He could determine the circumference quite well. After some recalculations he came to the conclusion that the number indeed matched 3.14xxx !
IT HAD TO BE 3.1416407864998 !!
Meanwhile, the town Dibi had gradually grown.
The reason was that there had been grown a good passable spot in the course of the river. The trade route from Cairo to Alexandria now passed by Dibi. So YuPea had no complains about clientele for his carpentry.
When he was busy with his wheel close to the river, an older man watching his operations came to him after a while and asked:
"What are you doing all the time?"
"Well," said YuPea, "I try the circumference of the wheel to be calculated. This stands in a certain relation to the diameter of the wheel I think".
"And how did you get this knowledge?" The man asked. "How can you calculate that good?"
"It has being taught to me by Mr. Conon who stayed here for a while cause of a broken leg. A few years ago" YuPea said.
"Oh, all right" the man said. "Good work young man, keep it up, there you can learn a lot."
"Oh, but I already did" YuPea said, "I have .... "
But the man had already moved on.
YuPea watched him.
The man, named Archimedes, slowly disappeared out of sight.
And YuPea?
He continued his calculations.
But was also married and had a whole batch of children. As a result, he had to work hard to earn a living. His calculations went into the background and the box with ball came to lie in a dusty corner.
After ten years he had the chance to go to buy a new lathe in Alexandria.
During those days, he came with his lathe under his arm along a large building with a huge patio. It was crowded with young men.
Suddenly he saw some young men with a big wheel rolling it cautiously over the patio. He walked up to it and asked:
No, pi is not 3.141923... hélas.
That would have been nice for Pi*e*Phi.
But the next thing I've found, in relation with Pi, is amazing!
That's why I wrote the booklet!